Thanks for visiting Targets4Free!
This is an awesome long-range NRA MR-31 Target that has been adapted for use at 100 yards. In other words, placing this at 100 yards will simulate the original at 600. It's definitely one of the more challenging targets I've come across, but will serve as great practice for prone or benchrest shooting. In fact, prone shooting competition is what the original 600 yard version was intended for. Shooting it this way should make the experience way more authentic!
I also want to thank Bison Ballistics (click here to visit them) for providing this awesome free printable target. Like I said, I think you guys will really enjoy it. We'd recommend sticking with a medium or high-powered rifle to make this target better simulate the original 600 yard format. Still, it should be a great all-around bullseye target to enjoy with any firearm. Thanks for visiting, and thank you for your support! We do everything we can to make this, and many other rifle targets printable for your shooting enjoyment.
ALSO: I would greatly appreciate it if you'd consider purchasing some pro-gun merch from our friends at BattleMountainArmory on Etsy, OR if you would shop through our amazon link, which gives us a small kickback on your purchases at zero additional cost to you. Thank you so much for your support! It's with your support that we're able to keep our small niche website up and running! Enjoy! 🙂
Click HERE, or on the image below, to open this target for printing!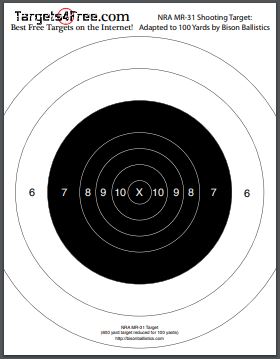 Read more