An awesome coin shooting target, added courtesy of user "dsdmmat" over at nygunforum.com. Thanks so much for your contribution!
This target features actual sized Eisenhower Dollars, Susan B. Anthony Dollars, as well as Kennedy Half Dollars. Of course, your common U.S. Quarters, Dimes, Nickels and Pennies. Remember for reference, a United States Quarter has a diameter of approximately 1 inch, so it's a great point of reference for group size.
To print in actual size, print at "100%" size, and do not fit to page! That will keep the dimensions of the coins accurate. This is an awesome target to challenge your friends with, or to improve your skills. Make up a dollar amount, and try to "make change" by shooting the appropriate coins! It should make an especially great .22 target for scoped drills at shorter shooting distances. We really hope you guys enjoy this new coin shooting target. Remember, more content is always being added!
P.S., if you like what we do and would like to help our site grow, we would greatly appreciate you all sharing our site with your friends on social media, or even linking to us on your own websites if you'd like! Alternatively, a small monthly contribution to our Patreon would be greatly appreciated, and could really help us keep the lights on, as well as continue to bring you new content on a regular basis. Thanks so much for all of your support!
Click HERE (or on the image below) to open this target for printing!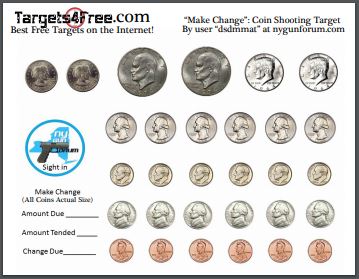 Read more