This Tic Tac Toe shooting game target is printable for free and is a great way to have fun and challenge your friends at the shooting range! If you like this target and other target shooting games like it (all completely free), please consider checking out our entire shooting game targets section, or the rest of the Targets4Free site in general for all the fun shooting targets we have to offer. Enjoy! 🙂
AND: If you appreciate our site, please consider making a very small monthly contribution to our Patreon page, or a one-time donation at our donate page. This site has a tough time sustaining itself, and a small amount of financial support from our most loyal users could mean a world of difference! Finally, please consider shopping on Amazon through our link. It gives us a tiny commission on your purchases there, at absolutely zero cost to you! Thank you so much for your support! Again, we hope you enjoy this Tic Tac Toe shooting game target as well as all our other content.
Click here (or image below) to print this shooting target game FREE!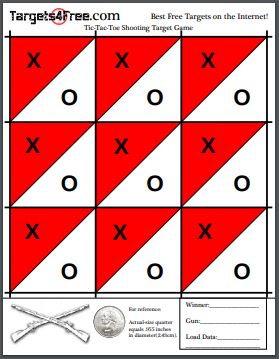 Read more