Today we're putting out a Vladimir Putin Shooting Target. It makes sense, since he's always in the news given his position on the world stage. So have fun with this free target by taking out Russia's gangster-in-chief, Vladimir Putin. Enjoy! 🙂
If you like this Vladimir Putin shooting target and/or want to see others like it, be sure to check out the rest of our bad guy targets, or any of the dozens of targets that we offer on the site: All completely FREE!
ALSO: If you like the site, please consider making a small monthly donation to our Patreon page, or a one-time donation at our donate page. A small amount of support from our most loyal users could mean a world of difference in keeping the site up and running! Finally, please consider shopping on Amazon through our link. It gives us a small commission on purchases, at no cost to you! Thank you for your support!
Click here (or on the preview image below) to print this target!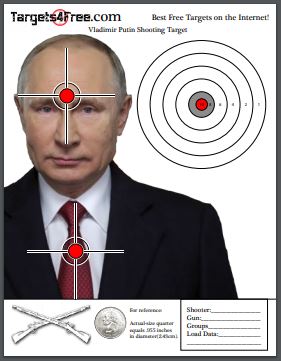 Read more