Hey gang! We've got this new IQ Rifle Target for you to try. It's another piece of content submitted to us by our friends at RE Factor Tactical. They feature tons of military/shooting type products that you're gonna' want to check out, including apparel, tactical bags, medical supplies, and even shooting targets! I'd highly recommend giving their site a look!
But that's not all. They were even cool enough to hook us up with an exclusive RefactorTactical coupon code for their site. Just enter "Targets4Free" (without quotes) in the coupon section during checkout, for a sweet 10% off your entire order!
This target features a large lettered triangle, and numbered circle, so they can be used/scored however you'd like. Make it your own! One possible drill for this target, which is similar to their larger IQ target, would be to print several of these, orient them several ways, and quickly shoot the numbered shapes while avoiding the lettered ones. And vice-versa. I think you're going to enjoy this, as well as the other targets that RE Factor Tactical was nice enough to send us (under "User Submissions). This free IQ Rifle Target is part of their larger, full-featured 23×35 IQ Targets, which you can buy here. Thanks for your support of our site, and theirs. Enjoy!
Click this link (or the image below) to open this target for printing!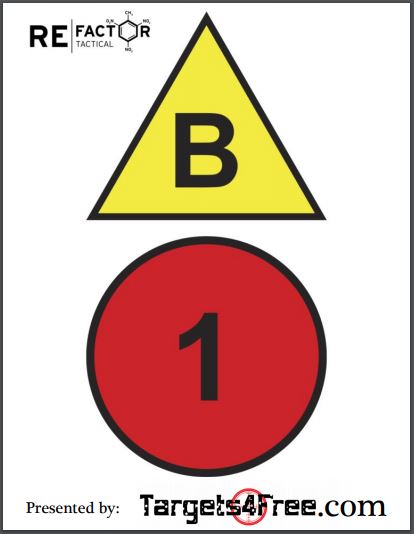 Read more