This FBI QIT-03 Target is a variant of the classic "FBI Q Target" (aka the milk bottle target), with vital boxes around the chest and head. A really basic shooting target, with some great utility in becoming a better shot. Suitable for practicing like the pros, having some fun on your own, or challenging your friends to see if your shooting is up to par!
I couldn't find the proper way to score this particular FBI target variant. I've scored "inside the outline" as 1 point, a heart shot as 2 points, and a headshot as 3 points. You might even opt to subtract several points on a miss. Meaning that a headshot will be "high risk, high reward" in terms of scoring on the target. What I do know, is that these targets are meant to be shot at 3 yards, and the chest square is supposed to be 4 inches wide. You may notice that it's less than 2 inches wide. So, if you shoot it at the same distance, it will be more than twice as difficult. So give it a shot! This post from Range365.com should give you a good explanation of how to score with the FBI's current target, which is the same thing, with the bottom portion chopped off. Otherwise, they're like for like. That newer version of the target will be put up here very soon though!
Either way, I think you guys are going to love this FBI QIT-03 Target. More content is always on the way. Enjoy this as well as our other printable pistol targets!
Click this link, or the image below, to open this target for printing!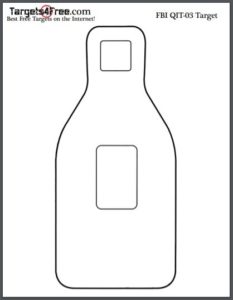 Read more