A free printable crow target that features vitals, scoring and so on! Great for the recreational shooter, competition shooter, and even as an airgun target for practicing backyard pest control. This is a target originally sold by Sears, first under the JC Higgins name (that version was a bit different) and later branded as Sears.
In fact, a good number of these targets varied between the Sears and JC Higgins brand names. For example, "Target No. 7" as is shown here, was still a crow, but the JC Higgins version shows the crow in a different position, and with a different target on its body. I'm still tracking down a high-quality copy of the other version, so it will be added here if/when I find one.
Primarily, I'm uploading these old targets here to preserve them so that they'll never disappear! Enjoy this free printable crow silhouette target! Be safe, and have fun! 🙂
ALSO: I would greatly appreciate it if you'd consider purchasing some pro-gun merch from our friends at BattleMountainArmory on Etsy, OR if you would shop through our amazon link, which gives us a small kickback on your purchases at zero additional cost to you. Thank you so much for your support! It's with your support that we're able to keep our small niche website up and running!
Print here, or the image below to open this target for printing!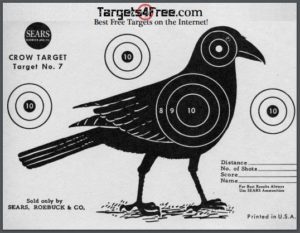 Read more