Another fourth of july shooting target for your guys, this time featuring 24 musket balls. All are sized to .69 caliber, the size of lead ball typically used in the "Brown Bess" musket, one of the most prolific muskets during the American Revolutionary War!
This would make an awesome training or competition target with a scoped .22 rifle, or maybe up close with a handgun. How many of the 24 lead balls can you hit with 24 shots? It'll be an awesome way to compete with your friends, or improve your skills on your own. Remember, these are going to be challenging, with a diameter of only .69 inches. So give it your best shot. Be safe, and have fun! Happy Independence Day!
Also, if you like what we do, please share our site with your friends on social media, or link to us on your own website! We would appreciate it tremendously! And, if you're a fan and regular user of our targets, please consider a small monthly donation to our Patreon. It would really help us keep the lights on around here. Thanks again for your support!
Click here (or on the image below) to print this shooting target!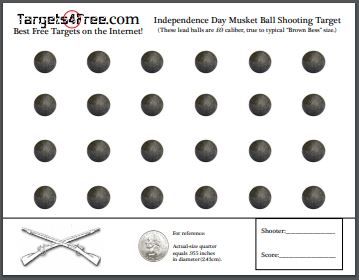 Read more