Today we've got another great new target! Once again, a target submitted by our friend Action N. You may remember him from his awesome 11×17 Dot Target that we posted last week. Today we're posting the bullseye target that he submitted. Just like his other submission, this target is clean, well-designed and a pleasure to use. It will be great for any weapon of your choice, whether you're shooting close range with a handgun, or long-range with a larger caliber rifle. Likewise, challenge your friends, or simply become a better shooter with this high-quality bullseye target. Enjoy!
Also, don't forget to check out Action N on social media. He does a ton of cool work with things like 3D printing for example, but has a number of cool art projects for your enjoyment as well. Here are his YouTube, Twitter, Instagram, as well as his ArtStation and DeviantArt pages. Definitely give him some love!
Click this link, or the image below to open this target for printing!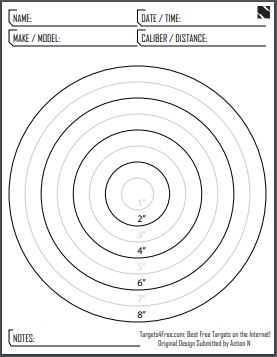 Read more