This NRA SR-1 Target is basically a normal version of this target, but shrunken down for placement at 100 yards. In other words, at 100 yards, this target will act as an exact simulation of the official NRA SR-1 target at it's proper 200 yard target distance. This makes it a fantastic target for long-range shooting. Whether you're competing with friends, or honing your skills on your own, I think you guys are going to love this NRA SR1 Target, as well as the other printable targets we host. We make these awesome rifle targets printable, along with countless others. Enjoy!
Remember, Targets4Free hosts tons of other free printable targets for shooting. Be sure to check out our full collection to spice up your next range trip!
ALSO: I would greatly appreciate it if you'd consider purchasing some pro-gun merch from our friends at BattleMountainArmory on Etsy, OR if you would shop through our amazon link, which gives us a small kickback on your purchases at zero additional cost to you. Thank you so much for your support! It's with your support that we're able to keep our small niche website up and running!
Click here, or the image below to open this target for printing!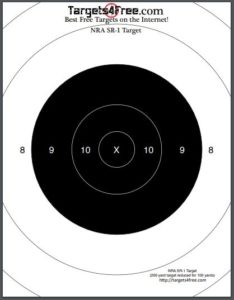 Read more