Hey Targets4Free gang, welcome back! This week we've got a brand new target featuring our ol' buddy Kim Jong-Un, also known more recently as "Little Rocket Man". Have fun taking down this dictator yourself, and improve your shooting while doing it! Enjoy this free printable Kim Jong-Un target!
If you like our site and the service we offer, please consider making a small contribution via our Patreon page. It would go a long way to help us keep the lights on and continue to provide shooting enthusiasts with brand new free printable shooting targets on a regular basis. Thanks so much for your support! And again, I hope you guys enjoy this new Kim Jong-Un Target. 🙂
To print this target, either click here, or the image below!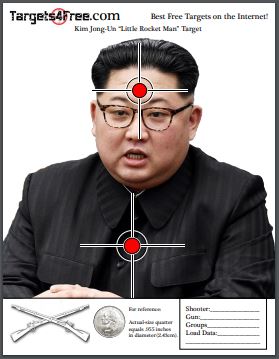 Read more