This is a shooting target of Youssef Zaghba, one of the three perpetrators of the London Bridge attack in June of 2017.  Take him down with this target.
The fact that Youssef Zaghba was able to carry out the London Bridge attack is perhaps an even bigger shame than the other two perpetrators. In an Italian airport, on his way to Istanbul, he was stopped. Authorities believed he was headed to Syria. He was caught with terror-related material on his phone, and even told authorities "I am going to be a terrorist." Still, because he hadn't actually committed a crime at the time, he was allowed to leave…
We at Targets4Free want you to enjoy this shooting target. But remember to be safe, and to always be vigilant out there. If you'd like to see our other terrorist shooting targets, click here.
Click here or the image below to open/print this target.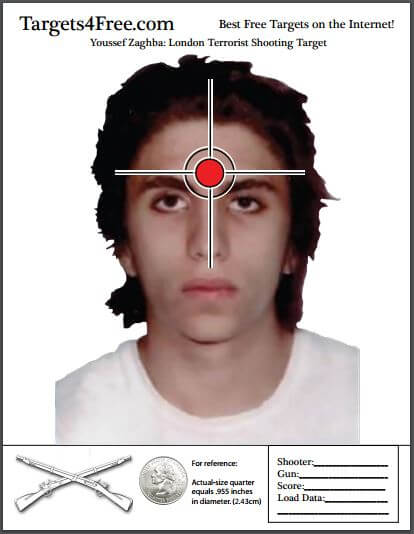 Read more