Hey Targets4Free gang! I'm pleased to be adding this Kill Zone Target, submitted to us by RE Factor Tactical. They're an awesome shop, featuring all sorts of military/shooting type products including apparel, tactical bags, medical supplies, and even premium shooting targets! If you haven't checked out their products, you're missing out!
They've even hooked us up with an exclusive RefactorTactical discount code for their site. Just enter "Targets4Free" as your coupon code during checkout to save 10% off your order! Enjoy!
As for the target, it features a beautifully drawn x-ray skull with one target zone focused on the mouth/jaw presumable for the brain stem, and the other zone focusing right between the eyes. I think you guys are going to love using this high quality target, as well as the others that RE Factor Tactical sent our way. You can buy the full-size large versions of this target here. Enjoy! 🙂
Click here (or the image below) to print out this free shooting target!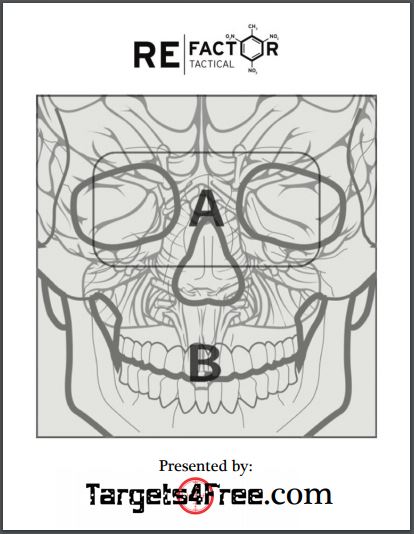 Read more